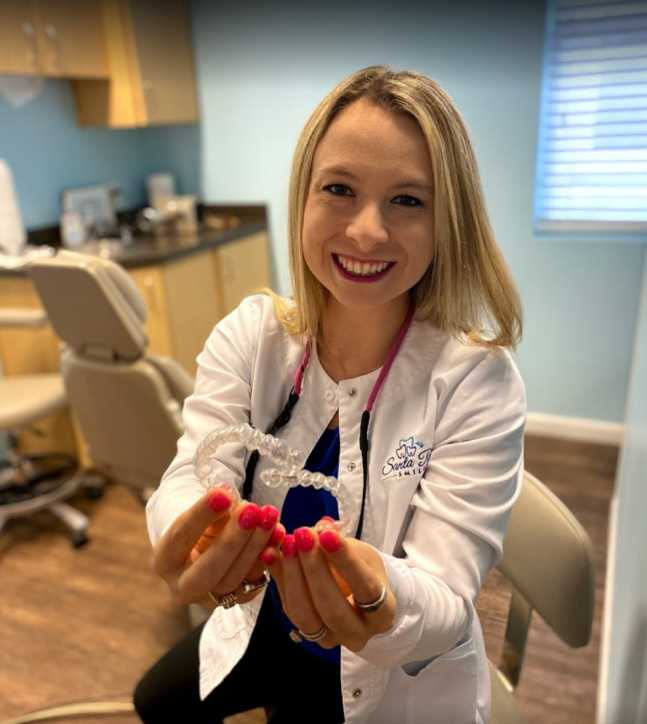 How are Stains Removed?
To remove stains from your teeth, whitening solutions use hydrogen or carbamide peroxide. The professional solution that our dentists at Santa Rosa Smiles use are stronger than solutions from over-the-counter whitening products so that they can get your teeth whiter and the results will last longer.
The whitening system that our practice in Santa Rosa Beach, FL uses can get your teeth three to eight shades brighter. The results of professional whitening also last much longer because, with care, our teeth whitening process can last as long as two years.
Commercial products like whitening strips or rinses require several applications, and the results may only last for a few weeks.
Doesn't Harm Teeth
Despite the stronger solutions, teeth whitening from our dentists will not harm your teeth. However, commercial products like whitening toothpaste can damage them. Whitening toothpaste contains abrasives that can scratch the tooth enamel, and the damage can allow decay-causing bacteria to infiltrate them and cause cavities.
Also, the whitening system that we use at Santa Rosa Smiles only requires one visit to our dentists to start showing results and brightening your teeth. Other systems can take longer to work because they require more visits before seeing significant results.
Custom Fit Trays
The trays that hold the solution that whitens your teeth are custom fit so that our dentists near you in Santa Rosa Beach, FL can get them brighter. A set of digital impressions are taken so that we can make the trays fit correctly and comfortably.
Once the whitening process takes place, you should reduce the consumption of foods and drinks that can stain your teeth, as well as stop smoking. Avoid red wine, coffee, tea, and dark colas, as well as tomato-based sauces and acidic foods, so that your teeth remain bright white for as long as possible.
Are you living in the neighboring Santa Rosa, Destin, Miramar Beach, Sandestin, and Grayton Beach State Park including Seaside, Choctaw Beach, Freeport, Pensacola Beach, and Navarre areas and want your teeth whitened? Call us today and book an appointment.