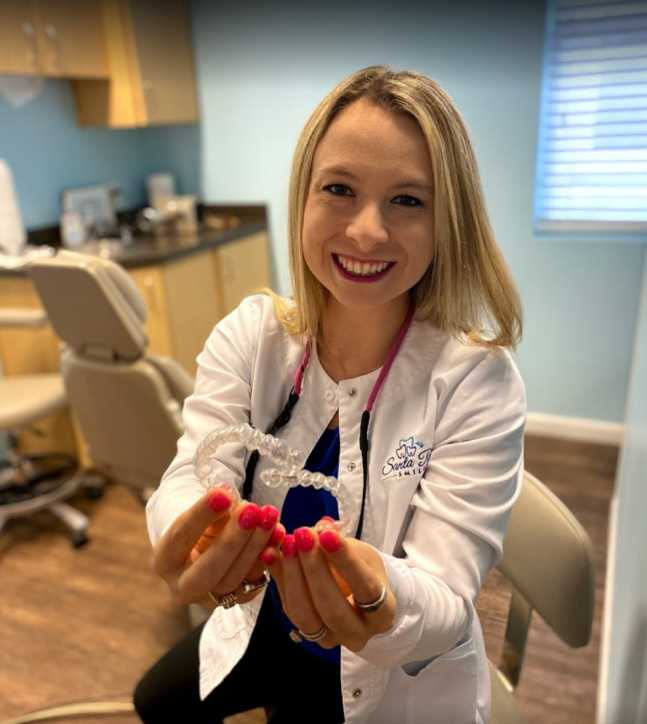 Whether you're looking for a single procedure in your pursuit of a smile update from a dentist near you in Santa Rosa Beach, FL or a combination of procedures, our multi-specialty dental care team has the experience, skill, and technology to give you the smile you've been dreaming of – and the one that you deserve with the help of a smile makeover in Santa Rosa Beach, FL!
Enjoy a New Smile in One Appointment
If you're looking for a quick way to update the appearance of your smile, our dentist in Santa Rosa Beach, FL offers many options for a smile makeover near you. Two of the most popular treatments are teeth whitening and dental veneers.
Unlike over-the-counter bleaching products which often over-promise and under-deliver in their performance, teeth whitening from our dentist can lighten the brightness of your smile by as much as five shades in one appointment! That means you can visit our office for an afternoon appointment and have an updated smile for whatever event you have planned that evening!
And if you're worried about the shape of your teeth, cracks in your teeth, or the spacing of your teeth, dental veneers from our dentist can provide equally quick results in your pursuit of a one-appointment smile makeover near you.
Custom Designed Smile Makeovers
Teeth whitening and dental veneers are two of the most popular smile makeover treatments we offer, but we also offer so much more! When you visit our office for a smile makeover consultation, our dentist will listen to your goals and provide information about treatments that will help you best accomplish those goals.
Other options for a smile makeover in Santa Rosa Beach, FL include the replacement of silver-colored fillings, using a clear dental aligner to correct spacing issues, and the replacement of missing teeth with a dental bridge, dental implant, or partial denture, to name just a few.
Are you in the neighboring areas of Santa Rosa, Destin, Miramar Beach, Sandestin, and Grayton Beach State Park including Sea side, Choctaw Beach, Freeport, Pensacola Beach and Navarre and in need of a smile makeover? The quickest way to learn how our dentist can help transform your smile is to make an appointment now for a consultation customized treatment plan designed just for you!