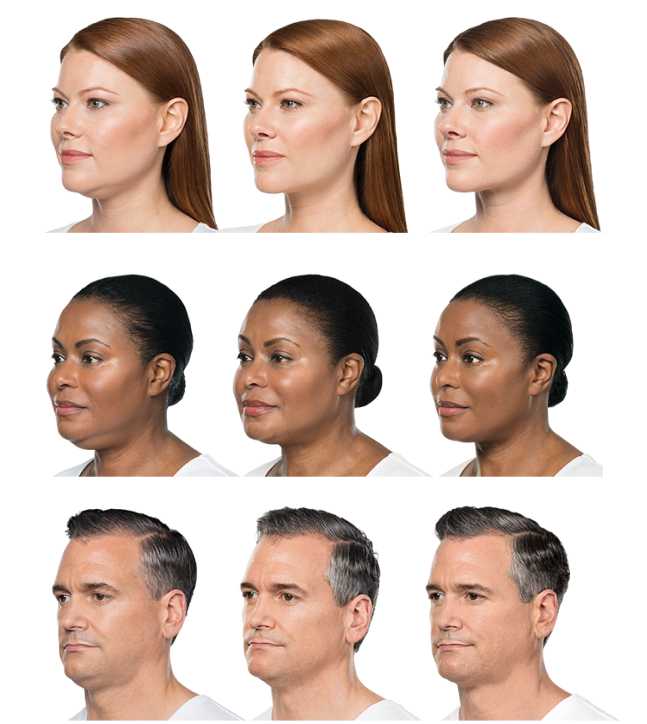 Quite simply, Kybella®
Kybella® is an excellent way to reduce excess fat in the face and neck area. This procedure is not necessarily tied to weight, so diet and exercise may not be enough to reshape your double or triple chin. Kybella® injections are recommended by Santa Rosa Smiles for men and women who want to get rid of excess fat along the jawline line and upper neck.
Removes fat under the chin permanently
Requires only simple injections of the same molecule our bodies use to remove fat naturally
Involves no downtime
Leaves you looking thinner and more youthful
How Kybella Works?
Kybella is a non-surgical and painless treatment that destroys fat cells and helps you get rid of stubborn and unwanted fat. The injection contains a molecule which pops the membrane, and the body naturally removes the fat within the cells. You'll have a series of treatments, all short and easy, monthly. On average, patients need 4 to 6 sessions, one month apart. You'll start seeing results immediately and each session will remove more fat cells.
Who can get Kybella?
Since Kybella is offered to patients over the age of 21, there is no upper age limit. As long as it's safe, Kybella will be available for you. Certain conditions may prevent your treatment, which can be discussed with your doctor during your consultation. Patients with pronounced skin laxity due to age or premature loss of skin elasticity may require a tightening procedure after the procedures are complete.