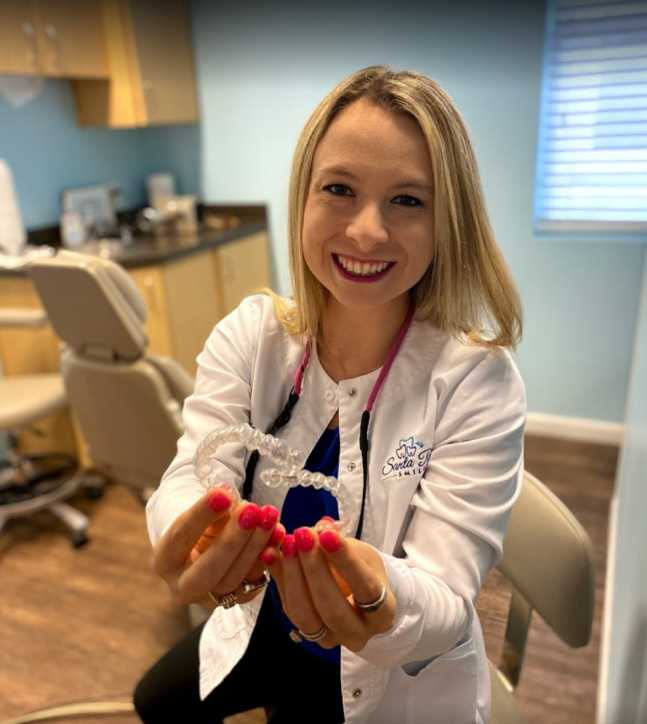 How Bacteria Causes Tooth Decay and Infection
Trapped food debris produces acids that attack tooth enamel and cause decay. The bacteria grow rapidly and form a sticky film on teeth called 'plaque.' Left untreated, plaque hardens over time, leading to the formation of tartar.
The decay eventually erodes dental enamel and seeps into the inner parts (especially the nerves and root) of the tooth, causing pain and infection.
Caries or cavities may also be caused due to:
Poor oral hygiene and lack of regular brushing
Consumption of excessive sugars
Dry mouth or inadequate production of saliva in the mouth (saliva contains beneficial enzymes that fight bacteria)
Eating disorders that result in high acid levels in the oral cavity; these acids eat away at the enamel
Early identification of problems and interventions can prevent complications at a later stage.
How Fluoride Treatments Protect Your Teeth
Fluoride treatments at Santa Rosa Smiles help fight against decay-causing bacteria and protect tooth enamel from deterioration.
Pain, decay, and infection may require root canal treatments or extraction in extreme cases. Fluoride coats tooth enamel and form a barrier against bacterial action. While fluoride can be found in food, beverages, and water, it helps to get professional fluoride treatment. Fluoride treatments can benefit adults as well as children.
Depending on your age and dental requirement, you can get fluoride treatments done every 6 to 9 months. Fluoride treatments are safe, effective, and maybe administered in the form of foam, gel, or liquid. The dentist will apply a concentrated dose of fluoride to the surfaces of your teeth.
Timely fluoride treatments can decrease the risk of cavities and reduce the need for expensive dental work at a later stage. It's also effective in reducing risks of gum disease and premature loss of teeth.
Santa Rosa Smiles in Santa Rosa Beach, FL offers fluoride treatments near you in the surrounding areas of Santa Rosa, Destin, Miramar Beach, Sandestin, and Grayton Beach State Park including Sea side, Choctaw Beach, Freeport, Pensacola Beach and Navarre. Contact us today for information regarding restorative, preventive, and cosmetic dental treatments.